Ryan Krempa Hockey League **UPDATED**
Monday, August 8, 2016

Brian Eiker

No comments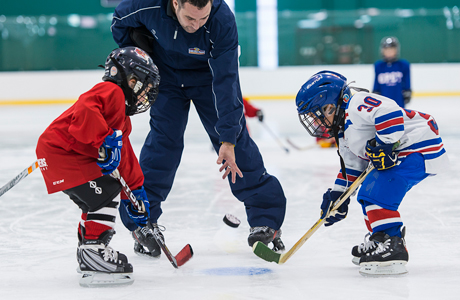 F.R.I.E.N.D.S. is proudly announcing a recently new program for all of our member families and families with any special needs. We are starting the "Ryan Krempa Hockey League" here in Central Maryland and will serve all counties from Carroll to Garrett in Maryland, the eastern panhandle of West Virginia and Franklin and Adams counties in Pennsylvania. The plans are to use the Hagerstown ice rink and possibly grow beyond that based on interest. Our coach and manager for this program will be Scott Krempa.
Our first step is a 6-week training camp that will open to all ages. The inaugural camp fee per student will be $40.00 and F.R.I.E.N.D.S. will provide the helmet and protective gear as well as the skate rental fee for each session. We have initial openings for 15 students and will be filled on a first come basis.
We truly hope that this will become a sport that will evolve into competitive games with local leagues in the Baltimore and Washington areas, so the more students, the better the chance of that happening.
PARENTS...we will be looking for teens and adults that would be willing to participate as on ice volunteers. Please email both me and Scott your interest and we will send you the necessary paperwork to complete for the students and volunteers. These are our committed (and reserved) camp dates and times:
Time:
11:00am to 12:30pm
Dates:
June 11, 18 & 25, 2017
July 9, 16, 23 & 30, 2017
August 8 & 13, 2017
The Hagerstown Ice & Sports Complex is so excited to host this new program and has committed to help us make this successful. For your reference, their address is 580 Security Road, Hagerstown, MD. 21740
We look forward to hearing from you.
Thanks!
Denny and Scott
Some photos from practice…