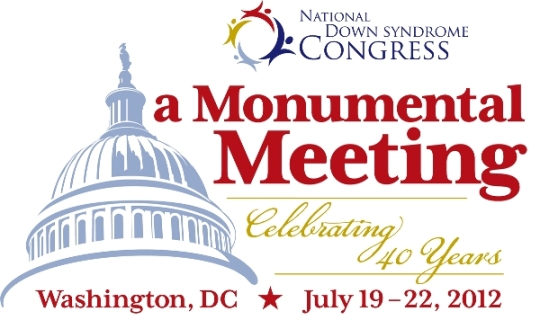 The 40th Annual Convention
Each year, thousands of people from across the globe attend the National Down Syndrome Congress Annual Convention. For most, it's to hear the latest information from world-renowned experts. For others, it's a great vacation. But, for nearly all, there's the one-of-a-kind NDSC family reunion feeling that permeates the convention weekend. In July 2012 our 40th Annual Convention will be heading to our Nation's Capitol in Washington, DC. From your house to the White House, it will be an opportunity to share in the milestones of the last 40 years, advocate for continued progress through a Day on the Hill, and embrace all individuals with DS as they live the dream. We hope to see you July 19 -22, 2012 for the 40th Annual NDSC Convention.  Click here to go to NDSC webpage.
Advocacy Day on the Hill
For 40 years, the families of the NDSC have advocated for a world of equal rights and opportunities for people with Down syndrome. Now it's your turn! On Thursday, July 19th, the day before our convention begins, NDSC will be hosting a Day on the Hill – a chance for you to visit with your U.S. Senators and Representative. Training will be provided to help ensure that you have a great visit. It's free and easy and can make a huge impact in this election year. While you're in Washington, take the time to make your voice heard. If not now, when?
Souvenir Journal Message Opportunity
The NDSC invites exhibitors, speakers, vendors, families and others to place a message in the convention program, the Souvenir Journal. Inclusion of your message shows your support for the work of the NDSC and all of its affiliate members and assists us to better serve persons with DS. The Souvenir Journal will be distributed to more than 2,500 attendees. Messages may provide information, recognition, good wishes or may memorialize an individual. Business logos and photos may be included.
2012 Hotel Reservations
The Hotel Reservation Link for the Mariott Wardman Park is now open. Please visit the Hotel & Travel section for more information.
REGISTRATION DEADLINES
Registration will open March 5, 2012
Best Value Rate: June 8
Youth & Adults w/DS: June 8 (or when capacity is reached)
Brothers & Sisters: June 8
Kids' Camp: June 8 (or when capacity is reached)
General Convention: June 27
Pre-Conferences: June 27