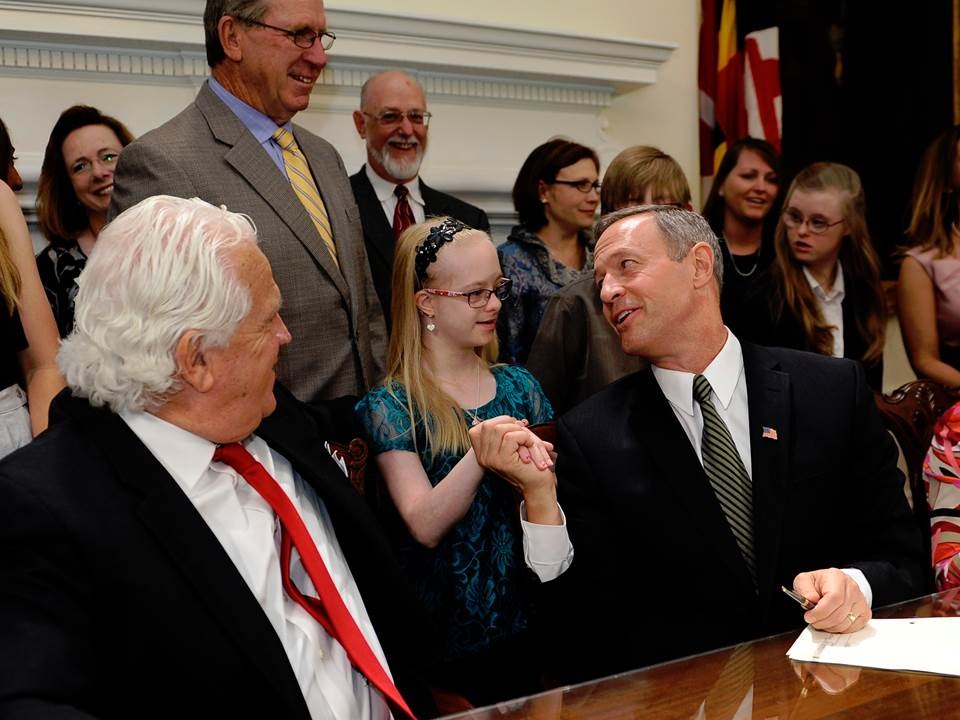 "Senate President Thomas V. Mike Miller Jr., watches as Governor Martin O'Malley talks with 11 year old Nicole Walsh of New Market. Nicole and her family attended the bill signing in support of SB 654, which requires that up-to-date information about Down Syndrome be provided to parents who have received a pre-or post-natal diagnosis that their child may have the condition. Speaker Pro Tem of the House of Delegates Adrienne Jones is on right. photo/ Barbara Haddock Taylor/Baltimore Sun  Reprinted with permission of The Baltimore Sun Media Group. All Rights Reserved"
May 5, 2014 – Governor Martin O'Malley signed into law Senate Bill 654 requiring the Maryland Department of Health and Mental Hygiene (DHMH) to provide up-to-date, evidence-based, written information about Down syndrome to health care providers for parents who receive a prenatal or postnatal diagnosis of Down syndrome.  DHMH will also be required to provide contact information for national and local Down syndrome organizations that provide education, support programs and services.  Under this law, all Maryland health care providers will be authorized to provide this information to patients who receive a Down syndrome diagnosis.
FRIENDS joined together with the Maryland Down syndrome Advocacy Coalition (MDAC), the Maryland Catholic Conference and other Down syndrome advocates across the State in a grassroots effort to get this legislation passed.
Some examples of the informational materials that the Maryland Down syndrome Advocacy Coalition hopes DHMH will provide are The Joseph P. Kennedy, Jr. Foundations Understanding a Down Syndrome Diagnosis, found at: www.lettercase.org and the National Down Syndrome Society's guide, A Promising Future Together: A Guide for New and Expectant Parents, found at: http://www.ndss.org/Global/NDSS%20NEW%20PARENTS%20GUIDE_web.pdf
FRIENDS wants to thank its members who provided testimony and contacted their Senators and Delegates in order to help make this possible.  THANK YOU!!!!