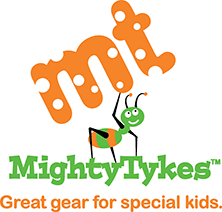 New resource link posted!
MIGHTY TYKES
Created by a special needs mom with the help of physical and occupational therapists, MightyTykes™ Infant & Child Weights are designed to promote your child's physical strength and stability for optimal development.
Click here to go to the website.  It will be posted on our RESOURCES page as well.
This site contains links to other sites on the Internet that are not under the control of FRIENDS. FRIENDS is not responsible for the content of any such external site, and the fact that FRIENDS has provided a link as a convenience to you, does not mean that FRIENDS endorses the site or its content. FRIENDS has not reviewed any information found on these sites and makes no representations regarding the information found there. If you have any questions or concerns regarding the content of any external site, you should contact that site's administrator directly.