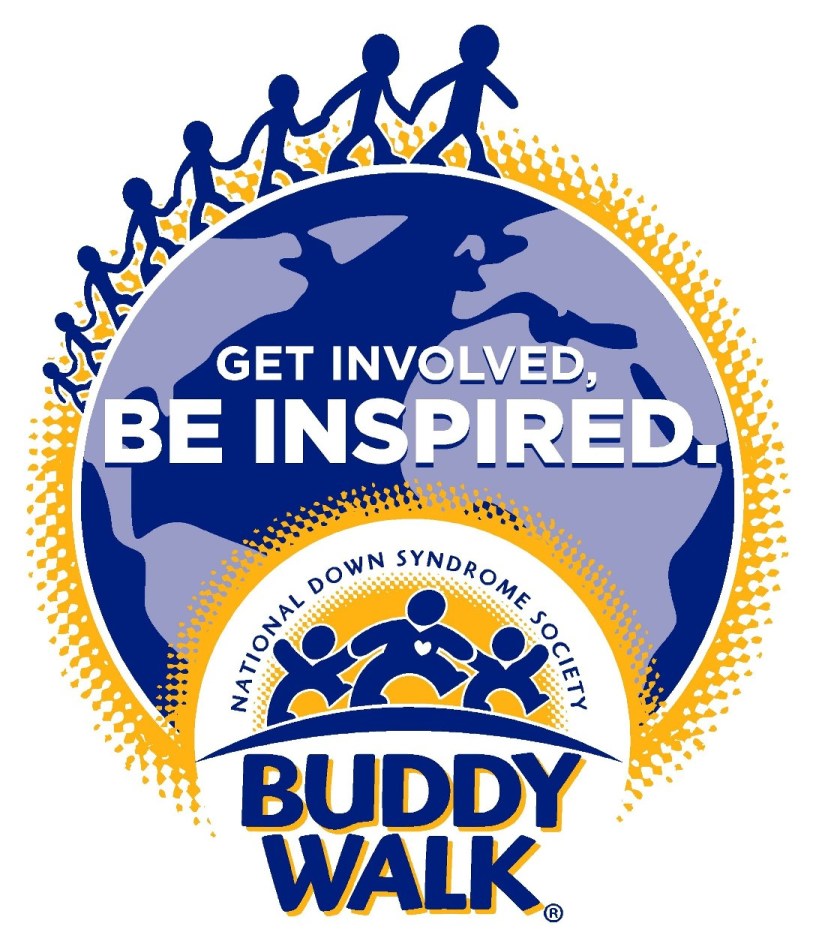 Ready…Set…Walk! It's time to celebrate this fun filled day with family and friends and celebrate all individuals with Down Syndrome!  We will have activities the whole family can enjoy such as a petting zoo, moon bounces, fun games, entertainment, food, speakers, and much, much more!  Awards for the "Top Fundraising Team" and "Most Creative" will be announced shortly following the walk.
F.R.I.E.N.D.S. will be hosting it's 11th Annual Buddy Walk on Saturday, September 22, 2012 near the band shell at Baker Park, located near beautiful downtown Frederick, Maryland.
Check-in/Registration begins at 11:00 am.  Walk begins at 1:00 pm.  When you check-in/register, you will receive your tee shirt(s).
The approx. one mile/one-block walk begins and ends at the band shell in Baker Park.
**Thanks to everyone who came out to make our Buddy Walk a success!  We had 625 walkers!
**Congratulations to "The Chosen Ones" team for raising the most money and to "Gaby's Gang" for most creative tent.
**To see photos from this year's Buddy Walk, click here.
**To see a Frederick News Post article about this year's Buddy Walk, click here.
**Thanks to our top five fundraising teams!! – The Chosen Ones, Team Routzahn, Gaby's Gang, Team Chrisholm, EdgeBio

NEW this year we will be able to accept MASTERCARD and VISA at registration!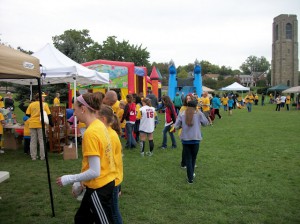 • BUDDY WALK FORMS AND MATERIALS
Click here for a letter size Buddy Walk poster.
Click here to download the Brochure/Registration Form.
Click here to download the single sheet Registration Agreement similar to the brochure.
Click here to download the Pledge Form (which can be copied as needed).
Click here to download the Corporate Sponsorship Brochure.
If you are having difficulty viewing the brochure, please click the link below to download the latest version of Adobe Reader.

• BAKER PARK BUDDY WALK LAYOUT
Click here for a layout of the grounds at Baker Park the day of the Buddy Walk.
• BUDDY WALK PATH
Click here to see the path around the park that we will be walking.
• FIRSTGIVING
Let us know you want to walk! Click on the FirstGiving link below to register yourself, setup your team, and create your own fundraising page.  Online registration is simple, fast, and secure.  If you prefer not to register online, simply fill out the registration form (click on the brochure link) and mail in no later than 9/01/12 to be guaranteed t-shirts.  Invite your friends, family, co-workers, school friends, and others to walk with you.
Click on the logo to go to our FirstGiving fundraising page for the Buddy Walk.
• AWARDS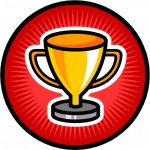 We will also be handing out two awards at this years Buddy Walk.  The first award will be for "TOP FUNDRAISING TEAM".  The second award will be for "MOST CREATIVE".  This year will be "Most Creative Decorated Tent".  Future Buddy Walks this will change to other things.  You will have bragging rights for one year, then the awards will need to be returned to F.R.I.E.N.D.S. prior to the next Buddy Walk and will be awarded again.
• EXHIBITORS / VENDORS

Again this year, we are pleased to have local organizations and businesses exhibit their services at the Buddy Walk.  Also, we will have vendors selling an array of goods.  The vendors will be donating a portion of the day's proceeds to F.R.I.E.N.D.S.  Some of the items may include Fashion Jewelry and Accessories, Handcrafted Sterling Silver Jewelry, Personalized Stationary, Scrap booking, Food Products/Cookware, Candles, Beauty Products, Personalized Bags, Baked Goods, Honey and Fairy Gardens.  So start your holiday shopping early.
• DAN KULP, INSPIRATIONAL COMEDY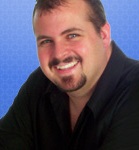 We would also like to welcome, Dan Kulp, this year to our Buddy Walk.
"Dan Kulp is a comedic story teller, singer, writer, actor and the proud parent of two adopted children from China who have special needs – including one with that wonderful extra chromosome! He is also the proud brother to four siblings who have Down syndrome (three were adopted).
Kulp has a story to tell. He had the privilege of growing up with four brothers and sisters who have Down syndrome (three were adopted). In fact, during the seventies, PBS and Newsweek Magazine did a feature on them which aired internationally and The National Enquirer did a two page spread about the Kulp family! Now, in a moving new chapter to the story, Dan and his wife have just received a daughter from China who, like her brother, also has a chromosomal syndrome ! Dan looks forward to moving your community through humorous and profound stories which will reveal lessons learned from his upbringing about loving those with special needs and the joy of adoption."  (www.kulponline.com)
• JACK BACORN, PHD SOUND SYSTEMS
Music and entertainment this year will be provided by Jack Bacorn of PHD Sound Systems.  "Jack has been working in the industry for over 19 years. … Jack also has experience as a club DJ (Ivy Tower, Bridal Veil Falls, and The Palace in Provo, Utah).  He also has worked in radio as executive producer and on air personality at KSRR radio in Orem, Utah." (www.phdsound.com)
• CORPORATE SPONSORS
We would like to thank some of our corporate sponsors for helping make this year's Buddy Walk the best yet!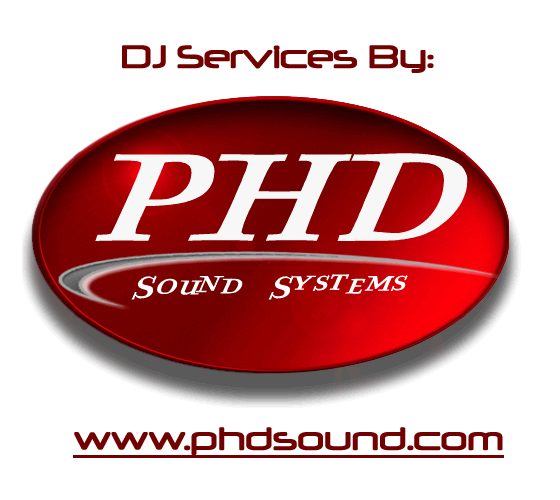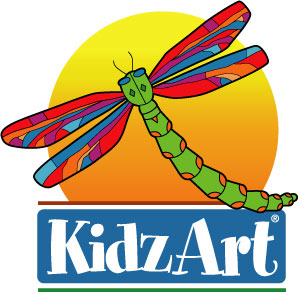 • PARKING
Click here for map of parking garages.  The locations are:
The Court Street garage is located at 2 S. Court St. and is accessible from S. Court St. and Citizens Way.
The Church Street garage is located at 17 E. Church St. and is accessible from E. Church St. and off of the 100 block of N.Market St. behind the Brewery Pub and Restaurant. (ALERT – May still be closed for renovation by the Buddy Walk.)
The Carroll Creek Garage is located at 44 E. Patrick St. next to the C. Burr Arts Library and is accessible from the 1 st block of E. Patrick St. and off of the 1 st block of S. Market St.
The West Patrick Street garage is located at 138 W. Patrick St. next to the Fredrick County Courthouse on the west side, and is accessible from 2nd block of W. Patrick St. and the first block of S. Court St.
The East All Saints Street Garage and is located at 125 East All Saints Street on the corner of East All Saints and South Carroll Street.  (exerpt from www.cityoffrederick.com)
• BUDDY WALK HISTORY
The Buddy Walk® was established in 1995 by the National Down Syndrome Society to celebrate Down Syndrome Awareness Month in October and to promote acceptance and inclusion of people with Down syndrome. Today, the Buddy Walk program is supported nationally by NDSS and organized at the local level by parent support groups, schools and other organizations and individuals.
The Buddy Walk is now in its eighteenth year.  What started in 1995 as 17 walks has grown to more than 250 walk across the country and around the world.  Last year alone, 285,000 people participated in a Buddy Walk and collectively they raised over $11 million to benefit local programs and services and NDSS national advocacy initiatives.
The Buddy Walk is a one-mile walk in which anyone can participate without special training. It is an inspirational and educational event that celebrates the many abilities and accomplishments of people with Down syndrome. Whether you have Down syndrome, know someone who does, or just want to show your support, come and join a Buddy Walk in your local community!
For more information on the National Down Syndrome Society (NDSS) Buddy Walk click here.
• ABOUT F.R.I.E.N.D.S.
F.R.I.E.N.D.S. is a Down Syndrome Advocacy Group of parents re-formed in 1999 in Frederick County, Maryland to:
– Be a support and resource group for expectant parents, new parents and extended families of babies born with Down syndrome;
– Provide age-appropriate activities for our children and their friends;
– Advocate for community awareness and acceptance;
– Have monthly meetings with professional speakers experienced in issues relative to Down syndrome;
We meet monthly at the Middletown United Methodist Church at 6:30 PM to share the joys and challenges of parenting.
Please come out and join us!