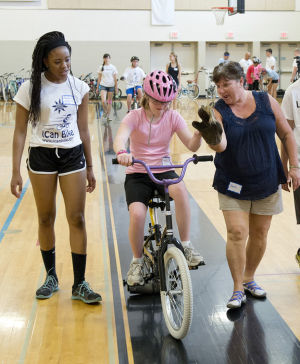 Organizers hope a bike skills camp will help people with disabilities roll through life with more confidence and independence.
"They truly believe they can do anything," iCan Shine executive director Lisa Ruby said of camp participants. "It really is so much more than riding a bike."
The iCan Bike Camp, which began Monday, is being held at Oakdale High School all this week until Friday.
This is the first such camp in the Frederick area. Across the country, there are 84 iCan Bike camps in 34 states and three in Canadian provinces, according to Ruby.
Local camp director Evan Routzahn and his wife became interested in bringing the camp to Frederick because they have a 4-year-old child with Down syndrome.
He hoped it would give children with disabilities a sense of pride and accomplishment.