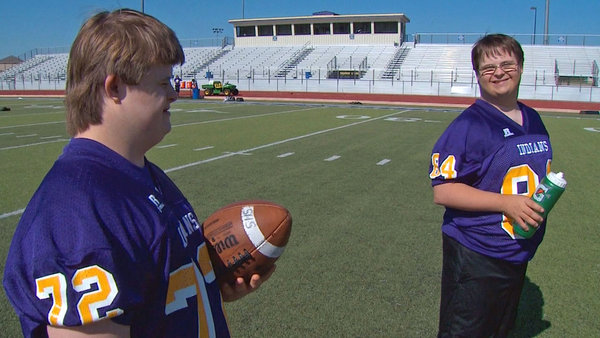 by LAUREN ZAKALIK
Follow: @wfaalauren
WFAA
Posted on August 12, 2014 at 6:19 PM
Updated Wednesday, Aug 13 at 6:39 AM
SANGER — Football season is back in Sanger, and the only thing more certain than getting sacked and sweaty in practice is seeing Blake Pyron and Austin Waters on the sidelines.
"Especially when you're tired and coming off the field, and you see them yelling with the crowd — [it] makes you feel better during the game," said senior center Brance Watts.
Pyron and Waters are best friends, going into their senior year at Sanger High School in Denton County. For the past few years, the teenagers — who live with Down syndrome — have been a big part of the varsity football team. They are water boys who led the Indians out of the tunnel every game last year.
"These guys are special," said Sanger football head coach Chuck Galbreath. "They have unique abilities, and they live their life to the fullest."
Galbreath has gone out of his way to make these kids not just feel like they're part of the team, but to be a part of the team.
While the Pyron family says the coach is a blessing, the coach said it's really the other way around.
"They're an inspiration for all of us," he said. "I know for me, specifically."
And just when you thought their relationship couldn't get any more special, Friday night happened.
In front of a packed crowd at the high school's "Meet the Tribe" night, Blake and Austin were named honorary team captains. Each received a jersey with his name on the back.
It was Coach Galbreath's idea; he said they will even get to walk on to the field every game for the coin toss. The crowd gave them a standing ovation.
"It humbled me, is what it did," said senior defensive end Collin Jones.
"It was awesome, no doubt," Galbreath added. "They had a smile as big as Texas."
Mom Mary Ann Pyron said this will shape her son's life.
"It lets him know he could do anything," she said. "He may need a little support here and there, but he can really do anything he wants to do."
It is a lesson anyone can appreciate — on the gridiron and off.
E-mail: lzakalik@wfaa.com