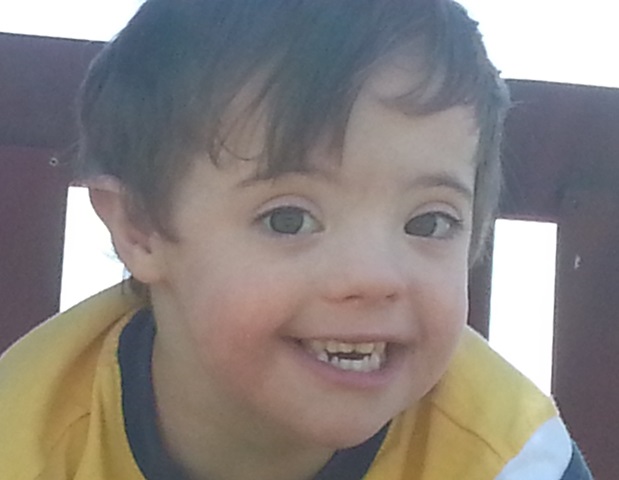 Ryan Scott Krempa
Ryan Scott Krempa was granted his angel wings on August 10th 2015.  His final days were spent surrounded by family and loved ones that Ryan had touched in some small way throughout his short, yet very memorable life.
Ryan's life would seem too short to many, but those who were touched by him understood that the quality of existence far exceeds the quantity of time in which one lives.  He enjoyed life and loved our family.  His smile and eyes lit up a room and could melt the hearts of all those around him.  Though he spoke few words, his happy expressions, laughter and thoughts could always be heard.  With his courage he led us to believe that each day is a blessing and an opportunity to create lasting memories.  He could spend hours reading books while cuddling close to those he loved so much.  
With Ryan's passing we remind others that his life is one to be celebrated.  Although we will miss him everyday he will forever remain in our hearts.  Through his life, we were able to create wonderful memories and it has been a blessing and privilege to be his parents.  We are so thankful Ryan's sisters Carly and Caitlin and brother Jacob had such a beautiful brother so they can hold dear the memory of Ryan's gentle spirit.
There is a special place in our hearts for Ryan's best friend Ms. Patti because of her continual dedication, love and support, Ryan was able to excel. 
Ryan is survived by his loving parents, Scott and Charlotte (Martin) Krempa of Walkersville, Maryland; sister Carly Krempa, brother Jacob Krempa, and sister Caitlin Krempa; paternal grandparents Frederick and Kathleen Krempa, Jr. of Cheektowaga, New York; maternal grandparents Andrew and Charlotte Martin, III of Dayton, Maryland; along with numerous loving aunts, uncles, cousins, and friends.
The family will receive friends on Tuesday August 18, from 6-8 pm at Hartzler Funeral Home, 404 S. Main Street Woodsboro MD, 21798.  There will be a funeral mass with burial following, on August 19, at 11:00 am at the St. Peter the Apostle Roman Catholic Church. 9101 Church St, Union Bridge, MD 21791.  A collation will follow the service in the Sullivan Room.
In lieu of flowers, donations in Ryan's name may be made to:
F.R.I.E.N.D.S.
PO Box 641 Middletown, MD 21769
Please visit the website at:
www.friendsoffredco.org  to learn more about our walk.