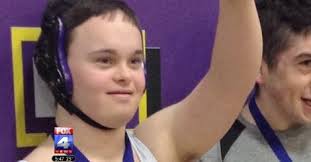 KEARNEY, Mo. — Some sports fans consider it the toughest game of them all. The wrestlers at Kearney High School certainly think so. After all, the Bulldogs have won two of the last three Class 3 championships in Missouri.
That school's list of tough guys includes one who achieved his first career win on the mat this past weekend. You'll have to forgive Kearney ninth-grader Brent Threlkeld if he gloats a little. After his weekend, he's won that right.
Sixteen-year-old Threlkeld is in his first season as a high school wrestler, and not even Down syndrome has held him back. During Kearney's tournament on Saturday, he finally got his chance to compete.
Kearney's coaches paired him against another special needs wrestler, Charlie Phillips from Savannah High School. Threlkeld used a move called a "two-and-one" to find his first career win.
"I pinfalled him, and then, I won the medal, and it had Kearney Bulldog on it," Threlkeld said.
Kearney wrestling coach Chad Hopkins is at the helm of a tradition-rich program where state championships are expected. He and Kearney special education teacher Heather Guilkey know Brent's pinfall was more than just a win on the mat.
"We're not asking for anyone to lay down and let him win," Hopkins explained. "We just want someone who's going to be able to compete with him and let him have a feel of what it's like to compete for real on a mat in a singlet."
"This was a really big deal for Brent," Guilkey said. "He's very much a social person, and he does great with his peers. Everyone really likes him."
Given that tradition, wrestling fans at Kearney high don't take victories for granted. Threlkeld says he's anxious to find win number two. His coaches say being 1-and-0 couldn't be more special.
"What I watched Saturday, it did a lot of people really good," Hopkins said. "It did the program good. It did the program good. It did our coaches good to see this is what life's really about."
So let him brag about the win. It's one to remember.
Kearney's wrestlers have a home match against Grandview on Tuesday night. It's yet to be seen if Threlkeld will wrestle in that meet with his junior varsity teammates.
http://fox4kc.com/2015/01/12/kearney-wrestler-with-down-syndrome-wins-first-career-match/
Click on hyperlink above to see video.