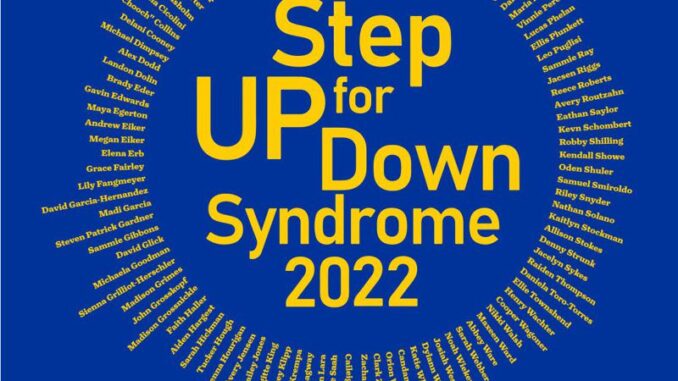 "Hello everyone! It is with a heartfelt sadness that we have decided to postpone our "Step Up for Down Syndrome Walk" until a future date. After watching the weekend forecast for the last couple days from Hurricane IAN and seeing the outcome not getting any better, we decided to not to hold the event where it could potentially rain the entire time. Participating in a 5K or watching a sporting event in the rain may be doable but, having an awareness walk with friends and families enjoying moon bounces, petting zoo, DJ, face painting, visiting community members, meeting new families, and reconnecting with old friends makes it difficult during inclement weather. We would like for anyone who has preregistered online to be able to pick up their t-shirts. Please touch base with Evan Routzahn to coordinate a pick up or drop off time this Friday or a future date. We appreciate everyone understanding our decision. Please be safe and stay tuned for future events."
Please join us on Saturday, October 1, 2022 from 10am to 2pm to kick off our "Step Up for Down Syndrome" Awareness Walk! October is Down Syndrome Awareness month and what a better way to kick it off then with us? This will be the first "in person" walk we have had since the COVID-19 pandemic started. It is going to be held at the Community Park in Middletown, Maryland. As in years past, you can bring a "pop up" tent/canopy if you have one. Decorate it however you want. You can use banners, posters, balloons, streamers, etc. Dress it up!. We will have FREE food to the registered walkers. There will also be food & beverages for sale.
We are excited to launch our online registration page for our "Step Up Walk". If you have used our online page before, you might have to create a new password when you log in (unless you remember your old password) Please private message me if you have issues registering your family or team. We cannot wait to see all of our wonderful families on Oct. 1st!
To register for the walk, please click: FRIENDS STEP UP WALK 2022 (ezeventsolutions.com)