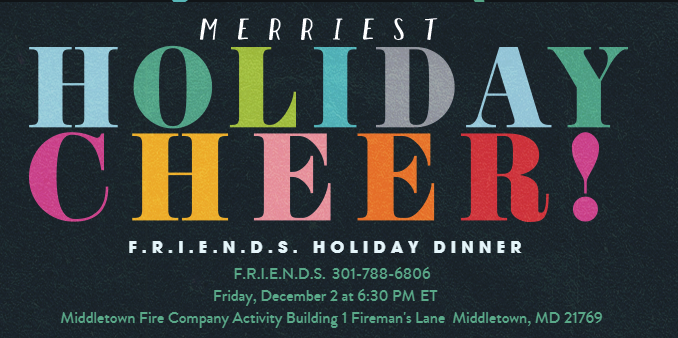 We are so exicited to be bringing back our IN PERSON Holiday Dinner Celebration! This is a catered event by Renaissance Chef Catering Company.
Menu: Carved Turkey Breast, Sliced Top Round, Green Bean Casserole, Yukon Gold Mashed Potatoes & Gravy, Traditional Stuffing, Garden Salad, and Dinner Rolls. Water, Tea, & Lemonade.
We are asking families to please consider bringing a dessert to share!
F.R.I.E.N.D.S. will cover the cost of the dinner, but kindly requests the final head count by 8:00pm on Wednesday, November 23. We recognize illnesses and unexpected events occur, but we are trying to avoid high numbers of no shows like we have experienced in the past.
We are currently trying to secure a Santa for our event. Our usual Santa is still not comfortable with large gatherings. If anyone knows of a possible Santa, please contact Evan 301-788-6806. We will keep everyone updated with the Santa status. No gifts need to be purchased this year. F.R.I.E.N.D.S. will provide a small holiday favor for each child.
Looking forward to seeing evening at this favorite holiday event! Please reach out with any questions or concerns.
Click here for invitation: Evite: Online Invitations, Greeting Cards & Party Ideas